IGA Supersaver
Recipes
https://www.igasupersaver.com/Recipes/Detail/6174/Island_Herb_Roasted_Chicken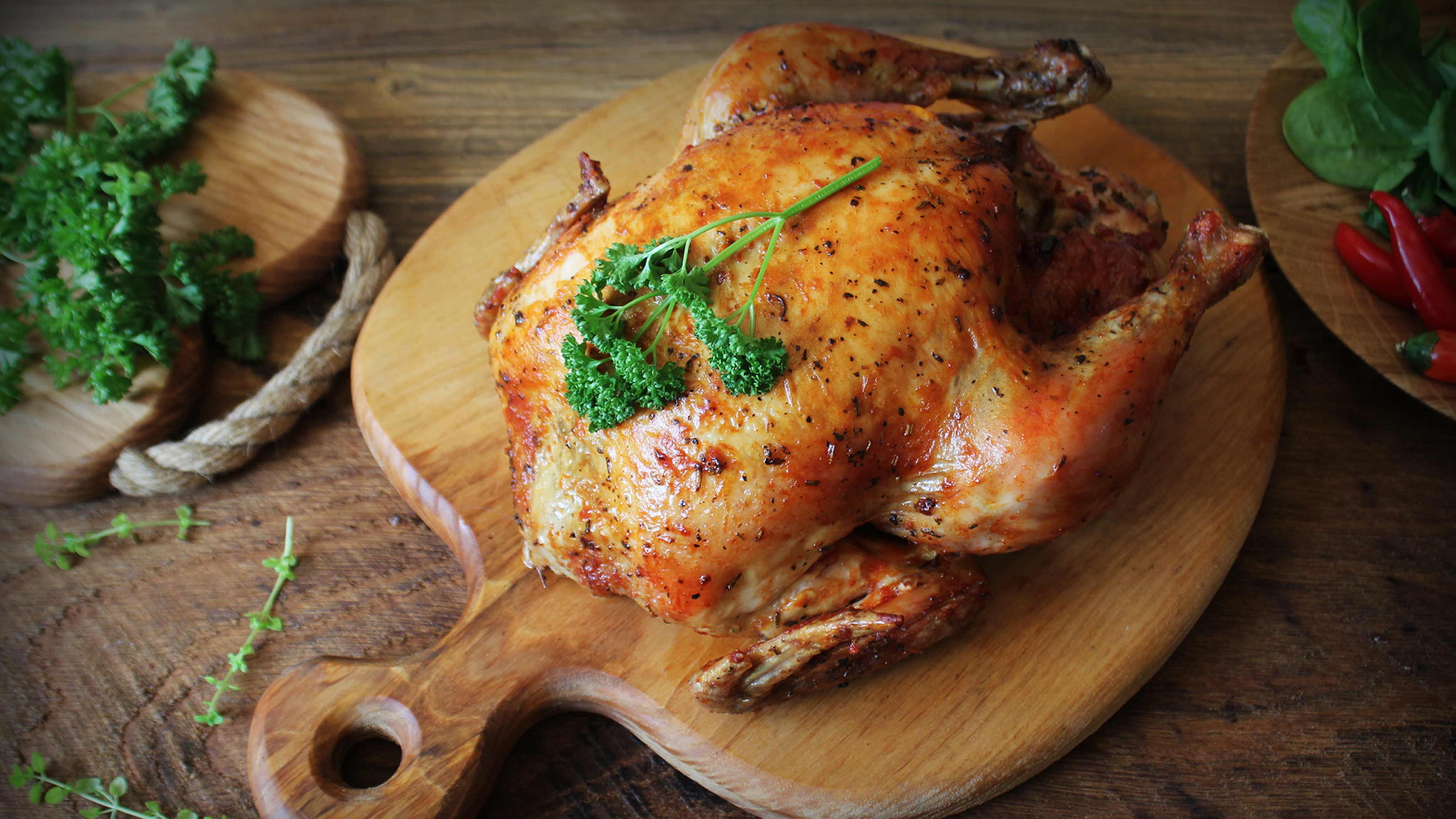 Island Herb Roasted Chicken
Diabetic Friendly
Yield: 4 servings
Ingredients
1

whole chicken, about 4 pounds

8
cloves

garlic, peeled

1

red onion, peeled and chopped

1

jalapeno pepper, seeded

1/4
cup

fresh parsley

1/4
cup

fresh cilantro

1
teaspoon

salt

1
Tablespoon

ground cumin

1
Tablespoon

dried oregano

1
cup

orange juice

1/4
cup

vegetable oil

1

orange, quartered

1

white onion, peeled and quartered
Nutrition Facts
Yield: 4 servings
Approximate Nutrient Content per serving:
Calories:
290
Calories From Fat:
153
Total Fat:
17g
Saturated Fat:
2g
Cholesterol:
59mg
Sodium:
627mg
Total Carbohydrates:
12g
Dietary Fiber:
1g
Sugars:
6g
Protein:
23g
47% Vitamin C, 7% Iron.
Directions:
In food processor or blender, place garlic cloves, red onion, jalapeno pepper, parsley, cilantro, salt, cumin, oregano, orange juice and vegetable oil. Puree thoroughly. Set marinade aside.

Rinse chicken and pat dry. Gently insert fingers under skin covering the breast, thighs and drumsticks, loosening as much as possible without puncturing the skin.

Place chicken in plastic oven roasting bag. Rub marinade into meat beneath the loosened skin and into body and neck cavities. Place quartered orange and quartered onion pieces inside body cavity. Pour any remaining marinade over chicken and close bag tightly. Refrigerate overnight. Remove chicken from marinade and pat dry.

Roast chicken in a 375 degree F. oven for 90 minutes. Internal temperature should reach 180 degrees when done, measured in the deepest part of the thigh, not touching the bone.
Note:
Chicken can be grilled over medium-hot coals (or gas - medium heat) until skin is deep golden brown and meat is cooked through, about 1 hour and 40 minutes (or about 25 minutes per pound.)

Adapted from the National Chicken Council. www.eatchicken.com
Please note that some ingredients and brands may not be available in every store.
IGA Supersaver Recipes
https://www.igasupersaver.com/Recipes/Detail/6174/